Weber Genesis E320 Gas Grill Review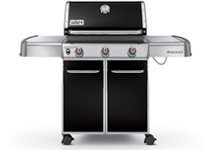 Welcome to our Weber Genesis E320 gas grill review page. We've done a thorough review of the Weber Genesis E-320 grill and below you'll find we've fully laid out all its features and benefits and also some of the limitations this particular Weber grill has so you can get the full unbiased picture.  We have also searched both online and offline for you to discover the best on sale prices for these Weber Genesis E320  propane or natural gas grills.
Buy a Weber Genesis E-320 grill? ….the reasons why you should….
What was noticeable right from the start of our research is that the Weber Genesis E-320 gas bbq grill already has an army of raving fans throughout the world that sing the praises of its large cooking area and ease of use whenever they can. And it's easy to see why as the liquid propane or natural gas Weber Genesis E 320 grill comes loaded with a whole host of design features that make outdoor cooking an absolute breeze. Whether you're cooking for 20 people or just two – this Weber Genesis E-320 grill will handle it with ease.

Its robust manufacture and solid construction carry it leaps and bounds ahead of other competing grills in its range. I also might add that it's not bad looking either, and you have a choice of 3 attractive colors to
buy the Genesis E320 grill – Black (3751001 and 6521001) , Copper (6522001),  and Green (6527001).
It certainly makes a nice addition to any yard or deck and I'm sure you'll be as proud as punch to invite your friends round so you can cook up a storm for them on this big beauty of a grill.
The Weber Genesis E320…why is it so good?   How about 35 burgers on the grill?
The Weber Genesis E-320 has a large cooking surface area totalling some 637 square-inches. This will easily give you the space and flexibility to grill 35 burgers at one time, or pretty much anything you can think of. It'll easily handle a crowd of 20 people but is versatile enough to cook for just two people as well.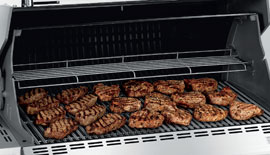 The cooking area has 3 powerful stainless steel burners that are highly adjustable using the conveniently located front facing valves. These are easily controlled to swiftly give you a burst of heat or lowered to give a cooler temperature and everything in-between. The burners will need an occasional cleaning but they'll definitely last longer if you look after them.
There's also a handy flush mounted side burner which allows you to multi-task while grilling. The cooking grates are porcelain-enamelled cast-iron so they retain their heat evenly across the grilling area meaning all your foods will cook and sear beautifully.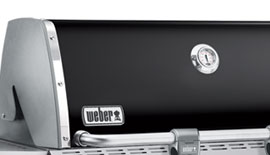 Weber Genesis E320 has a generously proportioned and solidly constructed lid which is operated in an easy push up and pull down manner. It's constructed of black porcelain–enamel and is absolutely brilliant at retaining heat within the grill area when in the down position.
This ingenious design aids in the even distribution of heat throughout the entire grilling area, cooking all your food to perfection. One thing that's particularly neat about this lid is that it also has a perfectly positioned center mounted thermometer so you can easily keep an eye on the cooking temperature at all times.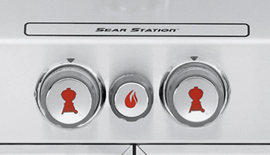 The Weber Genesis E320 comes with a convenient electronic push button ignition system which gives you an instant flame every time. This saves you from having to search for a lighter or a box of matches to get the thing going. There's also a helpful fuel gauge that lets you know exactly where you stand on your propane natural gas levels at all times.
Heavyweight Champion  – the Genesis E-320 grill packs all the right punches
As for many grills at this size, there's small amount of home construction to assemble the Genesis E320 grill, but the instructions are very easily to follow and you'll have it ready to grill in no time at all. Indeed, a recent purchaser commented :
"Assembly of this grill is nothing short of a very happy dream".
Some customers have commented that it's high quality and durable components means that this weber grill weighs around 190 lbs. This makes moving the grill into its position a task, but once its in place it gives you a strong, robust, and sturdy cooking structure. You may pay a little more for a Weber grill compared to other brands, but you'll definitely get what you pay for.
Weber Genesis E320 Grills come with 24/7 support 364 days a year
One of the really great things about buying a Weber Genesis E 320 grill is that you can purchase with complete piece of mind. Weber are the only grill company we could find that'll give you 24/7 support 364 days a year. Seriously, if you have a problem just give them a call and you'll get the answers you need.  For your added piece of mind the entire range of Weber bbqs all come with excellent warranties against defects.
Weber Genesis grills have an excellent reputation for their robust designs and build quality and they only manufacture grills with the finest of components. As a company, Weber distributes throughout the globe and they have gained an army of raving fans the world over. It would seem that once you own a Weber grill then you're a fan for life.
Many see the Genesis E 320 gas grill as an investment….a long term investment!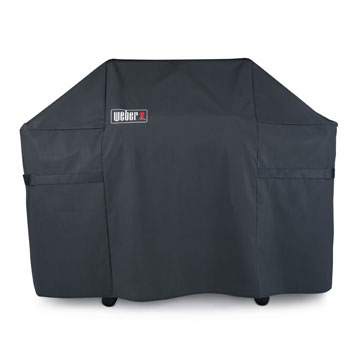 If you're making this sort of investment in a quality grill we would strongly recommend buying a proper snug fitting grill cover for it. Not only will a cover fully protect your grill from the elements; it also looks good and helps to keep everything neat and tidy and will save you cleaning it before your guests arrive.
In the case of the Genesis E320, keep it clean with the Weber Genesis E320 gas grill cover and look after it and it'll last you even longer.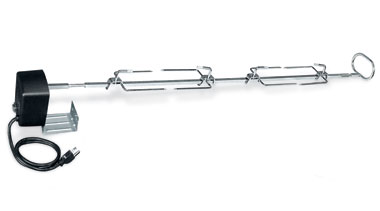 Other accessory options include the Weber Genesis E320 gas grill rotisserie. The rotisserie is powered by its own powerful motor, and comes with 2 split forks which is suitable for whole chickens or a large roast.
Weber Genesis E320 Gas Grill – Verdict
In summing up, the Weber Genesis E320 gas grill is an immensely popular grill due to its great build quality, large cooking area and ability to cook amazing food for large or small numbers and we recommend it highly.
Buying Weber Genesis E320 gas grills on sale –
Models and Colors to help you order the color you want
Propane Gas versions of the Weber Genesis E320 grills:
Natural Gas versions of the Weber Genesis E-320 grills:
| | |
| --- | --- |
| Current Model | Previous Model |
| 6621001 Black | 3851001 Black |
| – | 3852301 Copper |