Weber Summit S-470 Gas Grill Review
The Weber Summit S-470 is an object of stainless steel beauty, but even better, those who have purchased this gleaming grill report that it has lifted their outdoor cookout experience to a new level.
When reviewing any product, one has to be on guard to avoid hyperbole and stick to the objective facts. Certainly, we're going to lay out all the hard facts and data here – but based on a sober, objective analysis of direct experience by actual users of this product, it seems that Weber has hit it out of the park with the Summit S-470.
Below you'll find our diagram of some of the S470's main features:
It's important to note that no one sells more grills than Weber. This company has succeeded by adopting a relentless devotion to high quality products backed up by superior customer service.
Thus, even before you purchase a Weber product, you can be confident you're dealing with a solid company that won't ignore you as soon as they have your money. That's backed up with an iron-clad 25 year warranty, and a time-limited offer to replace many – but not all — parts for free.
The Weber Summit S-470 Is One SOLID Grill
The first thing we noticed when handling this grill is that the Weber S-470 has an incredibly solid feel. The frames are heavily welded. The design engineers seemed to have included as many welds as possible in favor of the various fasteners many other lesser grill designs favor.
There are some fasteners on this model, but the high-welding ratio really gives this piece of cooking equipment a solid and stable feel. You're going to need this for those large lunch or dinner parties as you don't want your grill wobbling and shaking as some makes and models of a lesser build quality are susceptible too.
Now let's take a brief look at some of the features of the grill before we discuss how the Weber S-470 will make your grilling experience as good as it can be.
This Grill comes with a far superior build quality – The S-470 will outlast
most other grills in its price range!
The majority of the S-470 is constructed of high-grade stainless steel. A few years ago   Weber switched from grade 304 stainless steel to 420. Believe us when we say this is a good thing. You'll pay a little extra for the higher grade steel but it means this grill will outlast most on the market giving you more bang for your buck in the long run.
Even with this improvement, some people who live in high-humidity environments can find that even 420 steel tends to suffer a bit from the effects of heavy, persistent moisture, resulting in some parts needing to be replaced. For most users, however, it takes years before any natural wear in the stainless steel surface begins to show. Covering this grill in a properly fitted Weber grill cover can alleviate this concern and fully protect your grill.
The real secret to amazing steaks…ones your friends will be jealous of and wish they could cook-up is all down to the quality of the grill grate!
The grilling grates are stainless steel as well, made from 9.5 mm (3/8-inch) rods. That's thicker than probably any other grill on the market. Thickness is important in how your food cooks. In short, the thicker the rods, the better the heat transfer to items like steaks, making for excellent and even cooking. Trust on this…If you want great steaks…The sort of steaks that'll make your friends and family jealous, then you want to get a grill with these rods!
Large Cooking Surface – perfect for family & friends
The first thing we noticed about the S470's cooking surface is there is certainly a lot of it! The S-470 features four main burners (with an option for six), but also a sear burner, an IR (infrared) burner and a smoker burner. The total cooking area is 580 square inches – which is a lot!
If you include the 130 square inch warming rack, you have a 638 square-inch total cooking area. Remember that the infrared feature allows you to cook rotisserie style, and the rotisserie is built in. Also, the rotisserie conveniently tucks away when not in use, giving you extra clear cooking space when you're not using this feature. That, along with the smoker, gives you the options for a huge variety of cooking styles.
Weber engineers seem especially proud of this grill's "Sear Station" feature to the point they obtained a patent on this design. The Sear Station allows you to step up the heat "on demand" to get just the char or scald you want on a fine cut of meat. It's pretty incredible.
The Weber Summit S-470 delivers easily controlled high intensity heat – for fantastic grilling results!
The S-470 delivers 70,000 BTUs under the hood. If you can't quite grasp BTUs, the under-the-hood temperature capability is 800 degrees Fahrenheit. (It might have to be a hot day outside for it to get exactly that high, however).
Why is a very high level of heat important?
The reason is that studies have shown that what actually gives grilled food its distinctive taste is not the necessarily the kind of heat – be it charcoal or gas – but the intensity of the heat. It's high heat which delivers that particular cooked-outdoors flavor.
It should be noted that some users report a few minor drawbacks to the S-470. Some say that the smoker box feature results in quite a build-up of smoky grime that coa
ts the entire interior, making it a challenge to clean afterword, although that's simply the nature of cooking with this method. It's not impossible to clean, mind you, but it just takes some elbow grease to fully clean up after a lengthy smoking session.
The great news is that the S-470 can handle pretty much all cooking styles and can cook a huge range of different foods from the simple to extremely complex: Steaks, kabobs, burgers, brats, whole chickens or turkeys, game hens, briquette, leg-of-lamb, fish, steaming clams, grilling shrimp or lobster – all cuts of meat, from the simplest burgers to exotic cuts, are handled with extreme ease.  Again, just about all users report a remarkable evenness in doneness is delivered to all meats.
Perfect for Vegetarian dishes
As for nonmeat products, again, the S-470 scores well here. Fresh corn on the cob, eggplant, vegetable skewers, mushrooms, baked potatoes – because of the array of cooking styles, this grill can handle just about any kind of vegetable using a cooking method of your choice.
It's also interesting to note that Summit S-470 can handle items that are not normally associated with outdoor grilling, such as baking a pizza or even bread. The oven-like space and super high heat enables you to handle these items the way they should be handled. The best pizza shops in New York or Chicago, for example, favor high heat of 500 to 700 degrees to get that distinctive old-world pizza quality taste. This grill can actually deliver this for pizza, pitas, calzones, and more.
Easy to clean!
Of course, all grills need to be cleaned, and cleaned well, not just for safe and healthy cooking, but also to preserve the integrity of the grill. The heavy-gauge construction of the Weber S-470 withstands a vigorous cleaning with ease.
The stainless steel grill won't scratch even under a thorough scrubbing with a brass brush, which is recommended. Some say a putty knife is useful for getting hardened stuff out of the drip pan. In general, cleaning the S-470 is a matter of common sense and scouring everything that needs to be scoured. As we said, a lengthy session with the smoker feature may lead to the biggest clean-up challenges.
It is highly recommended that the Summit S-470 be covered at all times when not in use. The reason is that some have reported that rain can cause water to collect in the same area where grease is collected, and can result is a rather difficult clean-up problem. But since this grill is a considerable investment in the $2,000 price range, keeping it covered is something most people will want to do. Weber sells a cover for this grill separately which you can view here.
The Summit S-470 Comes With lots of handy extras come as standard 
Easy Ignition: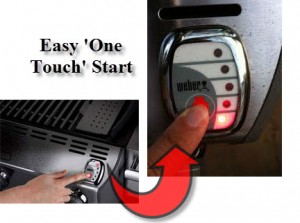 The Weber S-470 wields its very own proprietary "Snap-Jet" ignition system, meaning all you have to do is push a button or turn a knob to fire it up. You'll never need matches. You also don't need a plug in because the Snap Jet type ignition system runs on a small battery. It's aptly named; at the turn of a knob, the flames "snap-to" on command!
Fuel Gauge:
On the LP models only, there is an LED fuel gauge located in easy-to-monitor fashion on the exterior of the grill. This makes it easy to keep track of your gas consumption. Not essential, but nice to have. Also, users report this gauge is easy to read even in poor light because of the crisp LED display.  (Note: LP tanks are not included, so you'll have to buy that extra. But it does have a generous 10-foot gas connection cord.)
Temperature Gauge:
Perhaps more important is a temperature gauge, which many experienced cooks wouldn't consider an extra, but a must for gaining maximum cooking control and outcomes.  A true chef, for example, will tell you rack of lamb is best popped into an oven when it reaches 450, a brisket is best cooked "low and slow" at 200 to 230 degrees, and salmon finishes best at 350 (or broiled at 550).
So a temperature gauge on the Weber S-470 gives you that extra level of control for fine cooking – you'll never want to be without an accurate temperature gauge on an outdoor grill again!  The temperature gauge is located on the front and in the center of the grill, making it super easy to monitor.
Some Thoughtful Extras
Storage:
Weber's full-size gas grills come with enclosed carts with stainless steel doors, rather than just a front panel, for handy accessory storage.
Handle Lights:
Weber designers also added a few features that are just plain thoughtful, such as handle lights, which make cooking after it gets dark outside much easier. The handle lights illuminate every time you open the grill hood making sure you can see your cooking creations clearly and comfortably. This might also be considered a safety feature. (Note: The handles themselves are chrome-plated cast aluminum).
Swivel Castors:
Speaking of safety, two heavy-duty front locking castors and two heavy-duty back swivel casters will keep the grill locked securely in place while you cook – but the castors are also convenient because they make it easy to roll the S-470 around is handy as this grill is fairly heavy. The shipping weight of thus unit is 241 pounds, but it glides around like a snap on the lockable, heavy-duty castors.  (Incidentally, this grill stands 57.1 inches high, and is 66 inches wide, right to left. It is 30 inches deep.)
Lighted Control Knobs:
We'll make mention of the various control knobs as well under the "thoughtful" category because they feature an innovative lighting design and give a smooth-action which are a pleasure under the hand. You'll have no trouble seeing these lighted knobs in dark conditions.
Last in the "thoughtful extras" category — six tool hooks, and yes, an excellent cookbook, and comprehensive user manual.
SUMMARY
It is difficult to think of the Weber Summit S-470 as anything but an absolute home run. This is outdoor grilling at the very highest level. For gourmet cooks, this is a tool that will unleash and accommodate your most challenging and creative culinary demands. For those who just want sizzling, evenly cooked savory steaks, burgers, dogs or brats fast– and maybe some sweet cob corn on the side –the S-470 is an easy-to-use, no nonsense way to get a basic outdoor meal done quickly and with mouth-watering results.