Welcome!
At bbqgrillsbuyer.com we love to grill. It makes us happy! Throughout our many years of cooking outdoors we've come across grills in all shapes and sizes. Gas, electric, and of course charcoal grills.  But which one is right for you?
Helping YOU quickly choose the RIGHT grill
There are literally hundreds of grill models out there – so which is the best one to own? Through our years of cooking great food, we have discovered the important features that make all the difference between average food, and delicious food. This website is dedicated to sharing our knowledge – so you know what to look for when choosing a grill that is right for YOU.
Detailed reviews of gas, electric and charcoal fuelled grills, in both portable and stationary models.
Our grill reviews listed on this site start with the models by manufacturer Weber. Why? Because we believe they are the best. Why? Well, you can read that inside each of our thorough grill reviews!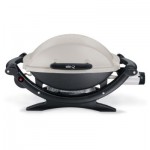 Looking for a portable grill?
You may wish to consider the Weber Q100 gas grill, the Weber Q120 gas grill, or the Weber Q140 electric grill.
Don't have much outdoor space?
You may wish to check out the reviews of the Weber Q220 gas grill or the Weber Q320 gas grill.
Want a larger grill that looks GREAT in your back yard (and one that will make your friends jealous!)?
You should have a look at the amazing Weber "Genesis" gas grills – and in particular the Weber Genesis E320 gas grill and the Weber Genesis E310 gas grill, or the Stainless Steel finish of the Weber Genesis S310.  Also, if you love that charcoal grill taste, then check out the daddy of all charcoal grills – the Weber Performer Charcoal Grill.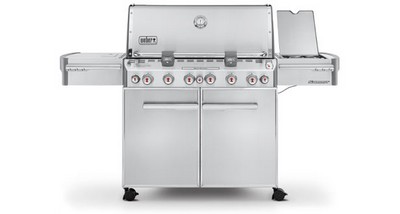 Grilling for a larger group of friends and family?
If you are grilling for a group of 6+ friends or family then you may wish to consider the Weber "Summit" range of Stainless Steel gas grills – especially the fully featured Weber Summit S 670 gas grill. It's jammed packed full of the things that you'll need to sear those tender juicy steaks, smoke those flavorful ribs, and grill out that rotisserie chicken…..and not forgetting it's huge main grilling area for those burgers, sausages and delicious grilled vegetables.
And let's not forget those essential grilling tools and accessories…..
Behind every grill master is a set of essential grilling tools……and on top of every great looking grill is a great looking Weber Genesis 7553 Grill Cover! We leave no stone unturned in our search for all of the grilling equipment that you are going to need, from the Weber drip pans, all the way through to the Weber Stationary Cart.
Asking the RIGHT questions…
Our reviews look at the features that matter:
How portable is the grill?
Is it available in natural or lp liquid propane gas?
Is lighting the grill as easy as it should be?
How much heat can you get from the grill?
How easy is it to control the grill heat?
Does the grill include a side burner or sear station?
Does a temperature gauge matter?
How easy is it to clean?
What do existing owners of the grill say about it?
What is the best cover for my grill?
If I want to add accessories such as a rotisserie, what are my options?
How easy is it to cook on my grill?
Does my grill make my cooking experience as simple as it can be?
These questions and more are answered in our Weber grill reviews.
Constantly updated – so you can search on sale best prices…
Our site is constantly updated to look at the newest features and enhancements of the latest models.  This monitoring will enable you to find the best sale prices for the grills, both in terms of the current models, and, maybe you can find a bargain with last years grill model on sale?
If you have any questions on any of the grills reviewed on this site, please do not hesitate to use the contact form page on this site and we'll get back to you.
Enjoy!
Are you sitting comfortably?!  If you look to the right hand side of this page you will see a list of links to each of our detailed and specific grill reviews.  Select a grill model to read what we say about it. Whatever grill review you are reading, the entire list of grill reviews will always be shown in the top right hand corner of the page.   We do hope you enjoy reading our grills review , and we're sure we can help you chose a fabulous grill.
Mike and John.
If you find our grill reviews useful, then we would appreciate some love back from you! If you enjoyed our site, then please click our Like button or G+ button below. Thanks!
? ? ? ? ? ? ? ?